Now that I have the Greenhouse re-arranged it's time to get some growing happening.
The first things I wanted to put in place were some tomatoes and beans on the climbing frames. I bought several bags of "Tomato and Veggie" potting mix on special and decided to use this in some tubs.
Last time I used the tubs I had some drainage holes near the bottom but the tubs kept drying out too quickly. I thought about constructing some proper wicking beds using the tubs but I wanted to use what I had on hand and didn't really want to go through the extra effort of assembling the wicking bed. I needed a short-cut, a work-around, another way. So this is what I did.
I reasoned that, if the bottom of the potting mix was kept saturated and the plants were relatively shallow rooted, then they would have the advantage of the water wicking up from the bottom and also get oxygen because the top would not be saturated. Hopefully the potting mix a t the bottom would stay in good condition for the time it took to harvest the crops. Then it could be remixed or used as compost on the garden. It sounded reasonable to me anyway

So, it was just a matter of drilling some drainage holes relatively high on the tub at both ends to keep the additional water in the tub. After much gnashing of teeth and procrastinating, I settled on a little over 125mm from the bottom. Mainly because it was less than half way up the tub and also about one hand width, including thumb, which made it easy to measure.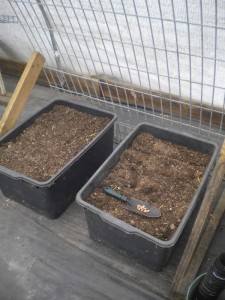 Once the holes were drilled in both end of both tubs, it was off the greenhouse to fill the tubs with potting mix and place them in position. The only extra job I had to do was seal the original holes on one of the tubs with some hot melt glue and small squares of plastic
I planted a mix of climbing beans at the back followed by cherry tomatoes in the centre and spring onions at the front.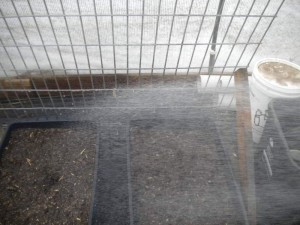 A quick soak until the water started to dribble out of the drainage holes and it was done.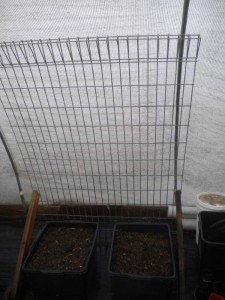 It will interesting to see how well it works.
I'll provide regular updates on the progress of the plants and we'll see if the simplified construction does the job or if I have to go back to drawing board