Well here I am back in Timor Leste doing another round of training related to Solar Power.
PV systems are really starting to take off here with the Government and many NGO's rolling out systems at an increasing rate. The Government, in particular, has recognised the need for power systems like PV Solar to fill in the gaps in the national grid. This is important, as many people (around 20%) will never have reliable access to the national grid due to topology and geographic issues.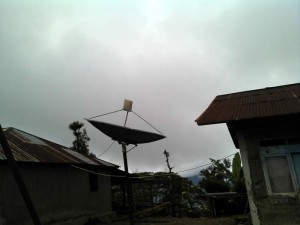 With the increase in installed systems there is an increased need for quality installers, effective handover and training to communities after installation, and an ongoing maintenance program, particularly for community based systems.
I am extremely fortunate to be able to play a part in this amazing development through my association with the ATA (Alternative Technology Association), Mercy Corps, local vocational training organisations such as CNEFP (National Centre for Training and Employment) in Tibar just outside Dili together with a number of Government staff responsible for the roll-out of technologies, including PV system in the districts.
Last week we held some training sessions with CNEFP and Government staff and followed up the training with a site visit to put in practice all that we had learned. It was a fabulous trip as the following photo gallery shows
.
The location is "Leodato" Aldeia (village)
"Leimia Sorin Balun" Suco (sub-sub-district)
"Hatulia" Sub-District
"Ermera" District
Lat, Lon:  -8.855806,125.372275
IF you enter this into Google maps you will see exactly where the village is.
This is the precise location of the meals table in the guest house at the chapel shown in one of the images below