A few weekends ago I went up to Alexandra in the Victorian High Country to help my Beekeeping mate Pete with his beekeeping classes. Well, more precisely I was able to supply some full frames of honey from my new hives for his students to practice their honey extracting skills. In the process I was also able to extract the remainder of the honey from another four frames and bring home around 12kg of sweet natural honey.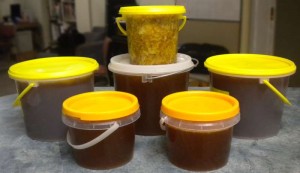 I was pretty impressed, and so was Pete, with the amount of honey we extracted from the six frames, particularly since there was a cold snap on the day and we were working without heaters etc. so the honey was pretty thick.
Here are some happy snaps of the second day out with the bees, learning to make frames, firing up smokers, inspecting the hives and extracting the honey.
And how does it taste? Absolutely marvelous!!